Are you wondering how to buy New808Punks NFT and don't know where to begin? You're in the right place. In this quick tutorial, we will guide you through installing the MetaMask wallet on your Chrome extension and, of course, learn how to minting. Let's begin!
Step 1: Pick a suitable device
At this stage, minting (buying) New808Punks NFTs is possible through the web browser Chrome on desktop computers (both: mac and windows) or mobile wallets.
Add the MetaMask Wallet extension for Chrome or Firefox or Brave or Edge
MetaMask is a cryptocurrency wallet used to interact with the blockchain. It allows users to access their blockchain wallet through a browser extension.
Click here to install MetaMask.
Step 2: Sign up or log in to your MetaMask Wallet
Click on the MetaMask extension to begin. You'll have to set a new password before moving forward. Then, the system will allow you to create a new wallet, import an existing one, or use a hardware one.
Whether you're creating a new wallet or importing a new one, you might need a Seed Phrase consisting of 12 words. For first-timers, it's essential to save this phrase for recovery purposes. Make sure to write it down and keep it somewhere safe.
If you followed the steps, your MetaMask Wallet should now be ready to use Let's continue.
Setting up Metamask for Polygon Network
Switch the connected blockchain by clicking on the tab saying Main Ethereum Network, we need to add the Polygon network.
Scroll down until you find Custom RPC.
Enter in the Polygon Mainnet settings as follows:
Click Save.
You have now connected to the Polygon mainnet with your MetaMask!
Step 3: Top up your MetaMask Wallet
If your MetaMask Wallet is new, next up is adding some MATIC to it. That's so you can mint (buy) some eye-catching New808Punks NFTs, of course. To do so, click on Account and copy your wallet address. After you get your address you can send some MATIC to that address from anywhere. Don't forget sent your MATIC in Polygon network.
Step 4: Start Minting
No you can go to https://new808.tk/mint/ to mint. The website will automatically detect you wallet since you're logged in already to your MetaMask Wallet via browser. Great, isn't it?
To get the minting started, click on "Connect".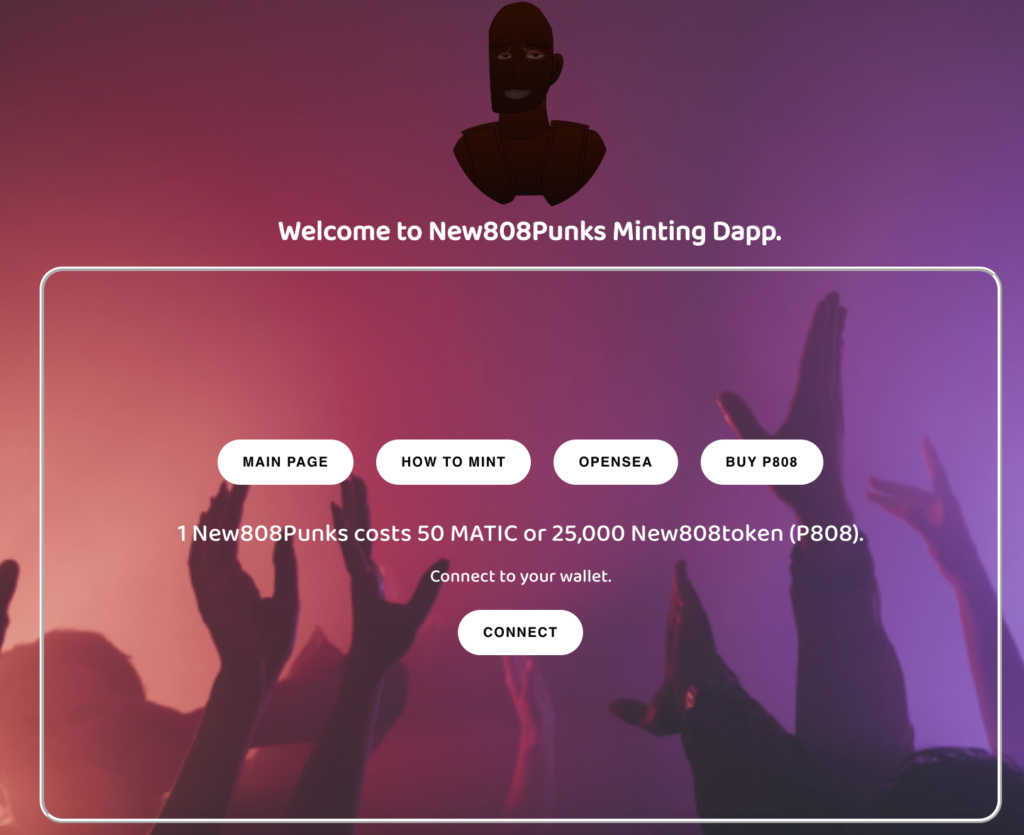 Then, select the amount of New808Punks NFT you wish to you buy and press "Mint by Matic" or "Mint by P808" — This action will automatically open your MetaMask Wallet in another window to confirm the transaction. Just make sure to have enough MATIC or P808 in your balance. If you want to mint by P808 you need to approve first.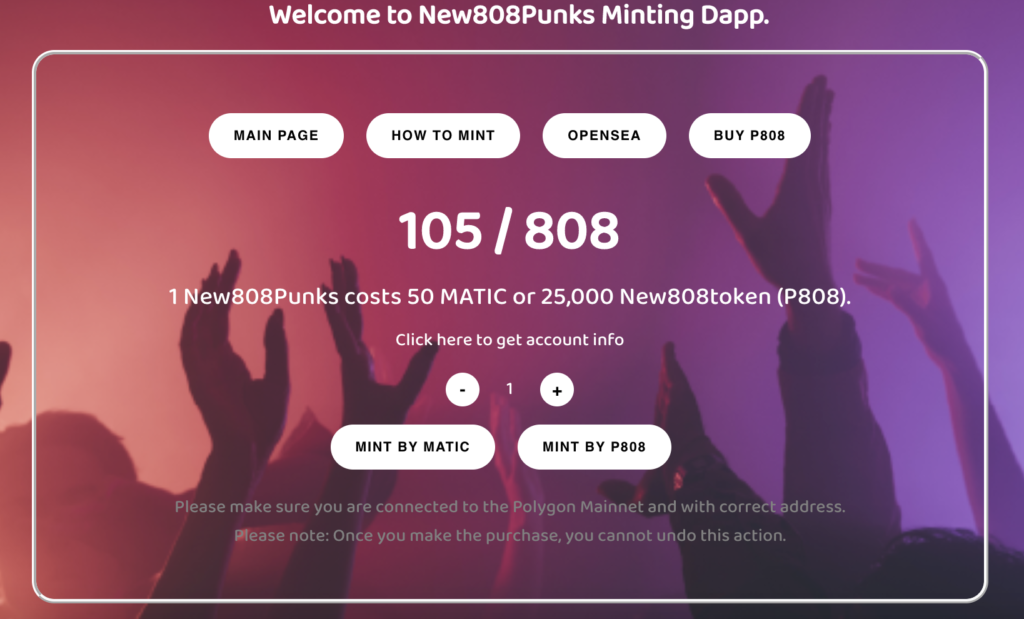 Once the minting process it's completed (it might take a few minutes), your New808Punks NFTs will display on the opensea collection. And yes, you're now officially a New808Punks owner. You can also transfer and sell your NFT through the marketplace.